1. 5W HF PA kit coming very soon...
2. New QRP Labs application notes
3. Documentation in A4 and Letter format
4. New Ultimate3S QRSS/WSPR kit firmware v3.11
5. The BITX40 and the QRP Labs VFO kit, and new VFO firmware versions
6. Shipping delays
7. Balloon flights and ZL1RS ocean buoy news
8. Seasons' greetings
9. Social media, Feedback, unsubscribing
1. 5W HF PA kit coming very soon...
Finally development of the 5W HF PA kit is complete and the kits are now being manufactured, documented and kitted. They should be available in the shop in around 2 weeks. The availability will be announced on the QRP Labs YahooGroups forum, Facebook and Twitter. 
This PA kit uses a single inexpensive IRF510 as the power amplifier. But with differences! There is a discrete component power modulator with foldback current limiting, which is controlled by an 8-bit Digital-to-analogue converter loaded by a shift register. This can be configured by a microcontroller to provide a sequence of power steps to very closely replicate a raised cosine RF envelope for click-free keying! So it will be perfect for CW transmitters and homebrew projects as well as with the QRP Labs kits. The PCB size is 80 x 37mm and it stacks behind the QRP Labs kits such as the Ultimate3S and VFO/SigGen kits with a little additional wiring. There are plenty of unusual aspects to the design which are highly educational as well as useful. 
The photograph (below left) shows the final prototype in testing. The "stack" of QRP Labs kits consists of:
Front panel of an Ultimate3 QRSS/WSPR enclosure kit
VFO/SigGen kit but with green display (having used up all my spare blue ones), with customised firmware for testing the raised cosine envelope, and a 5V single-BS170 Ultimate3S kit PA stage as the driver of the PA
An old 80 x 37mm PCB carrying a 7805 voltage regulator and a small heatsink
At the back, the new HF PA kit with 65mm high heatsink
Coax to QRP Labs 30m LPF kit on a piece of matrix board
Coax to oscilloscope
The 'scope trace (below right) shows the RF envelope of a single 24wpm CW dit (duration 50ms) with 10ms raised cosine shape at the key-down and key-up. The supply voltage is 13.8V and the power output is 5.6W in this example.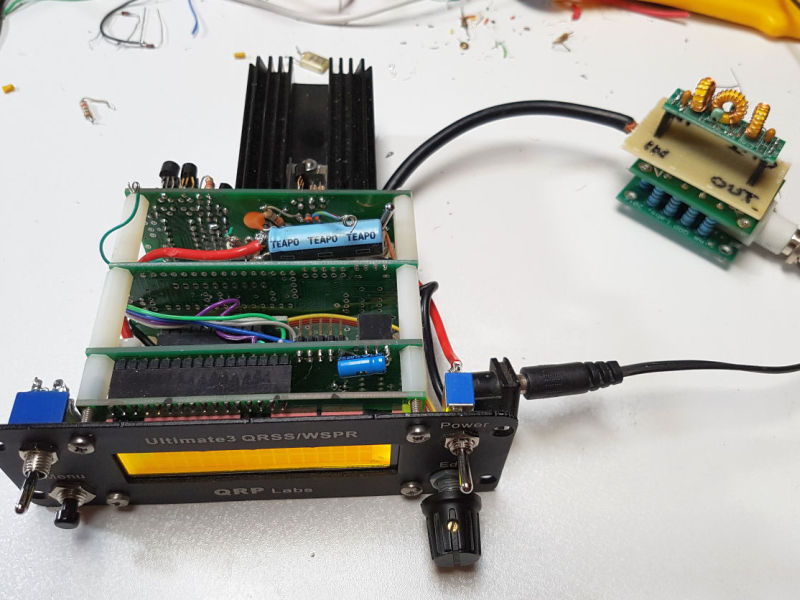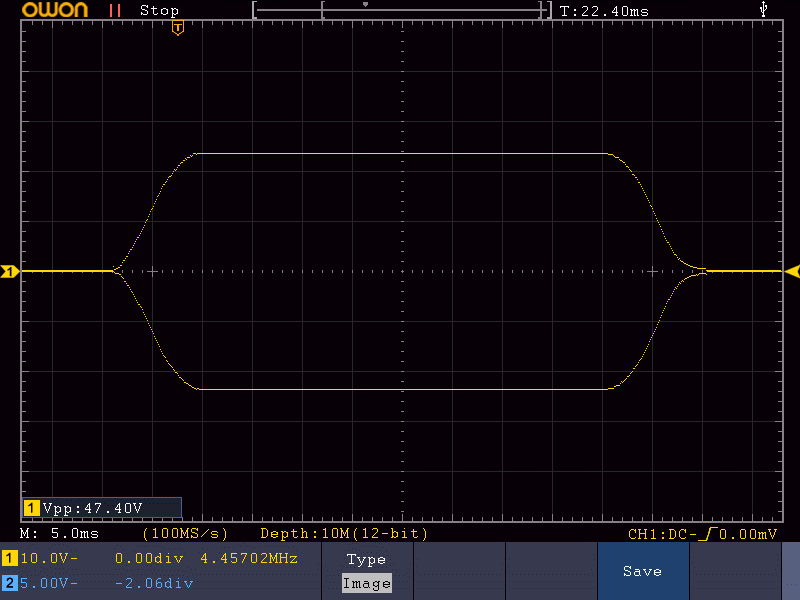 2. New QRP Labs application notes
As part of the efforts to further improve the QRP Labs documentation, we thought it would be useful to write some App Notes to explain some aspects or applications of QRP Labs kits. This will help keep the assembly instructions documents simple. The optional ways of using the kits will be moved to the App Notes, where they can be explained in more detail without cluttering or confusing the assembly instructions. These App Notes are all listed on this App Notes page, and are also linked from the relevant kit pages.
So far there are three app notes, all written in November 2016. More will come, as and when the need (and time) arises.
AN001: Frequency drift reduction in the Ultimate3S transmitter
AN002: My QTH is many km wrong in the WSPR map – how to fix it!
AN003: Controlling additional relays using the Ultimate3S "Aux" 
3. Documentation in A4 and Letter format
QRP Labs documents have to date been published as PDF files formatted to A4 paper size. Following some comments from US constructors, we have decided to publish documents in both A4 and the US/Canadian Letter format. Yes, theoretically it shouldn't be needed, it ought to be possible to set the print options to shrink or stretch the page to fit. Many people don't print the documents to paper anyway. But for those that do, it can be confusing dealing with all the printer options. Better to spend the effort building the kits rather than wasting paper on multiple attempts to print the documents without losing the bottom of pages! It's easy enough for us to publish in both Letter format for US/Canada and A4 format for the rest of the world. So, gradually we'll convert all the documents - starting with the new App Notes which have been written in A4 and Letter formats from the start.  
4. New Ultimate3S QRSS/WSPR kit firmware v3.11
It's been 6 months since the last Ultimate3S firmware update! The new version v3.11 was released on 11-Nov-2016. As usual, the .hex files for people wishing to upgrade their chip are available in the QRP Labs YahooGroups forum files area, and the programmed chip is available here in the QRP Labs shop: http://shop.qrp-labs.com/u3schip. Of course all new Ultimate3S kits are shipped with the new version.
There were a couple of minor changes to create a little spa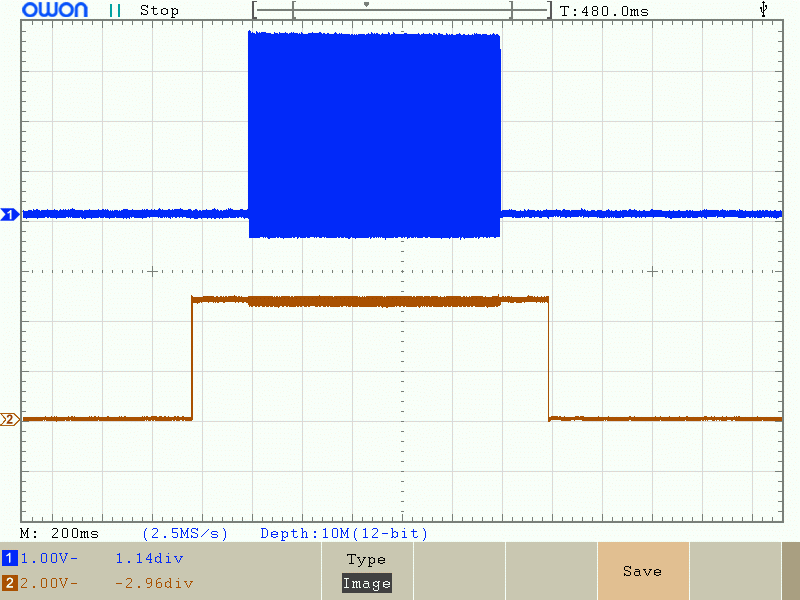 re code space for the two main changes. The two main changes are:
1) A new "RX" mode which can be configured into the sequence of (up to) 16 transmission screens. This RX mode operates the Si5351A Clk1 output on 4x the specified frequency, for directly driving the Local Oscillator input of the QRP Labs Receiver kit. Additionally the field which would set the Power level encoded into WSPR messages, is here re-purposed as an IF Offset in kHz. This makes it easy to use the WSPR software's IF Offset mode (described in the Receiver kit assembly document).
2) A new "PTT Delay" configuration parameter in the menu. This was requested by some 600m operators who do not wish to hard-key their powerful amplifiers (large powers are often used on 600m due to the inefficiency of most people's electrically short antennas). When this setting is non-zero, the Ultimate3S PCB's "Key" output functions as a "PTT" signal for keying an external PA before the RF signal becomes operational. The delay parameter specifies the number of milliseconds (0..999ms) that "Key" becomes high before the RF signal starts i.e. the actual key-down, and the same delay is also appended on key-up before "Key" becomes low again. This 'scope trace shows a demonstration 1 second key-down transmission (top) and the corresponding activity on the "Key" signal (bottom), with "PTT Delay" set to 200ms for the same of this demonstration. 
5. The BITX40 and the QRP Labs VFO kit, and new VFO firmware versions
There has been lots of interest this month in the VFO kit, from owners of the new BITX40 SSB transceiver board designed by Farhan VU2EME see http://www.hfsigs.com/. Farhan recommends the QRP Labs VFO kit for use with the BITX40, for people wishing to replace the onboard analogue VFO of the BITX40. The BITX40 uses a 12MHz IF and a VFO that operates at 5MHz to provide coverage of 40m (7MHz). The QRP Labs VFO kit did not have the facility for "negative IF offset", meaning the case where the output frequency must be the IF frequency minus the displayed (reception) frequency. Hence the new firmware version to cater for BITX40 users!
The main features of the new firmware version s1.02 are:
Support negative IF offset for use with the BITX40 (and any radio having IF higher than reception frequency)
Added lots of new #-tags for customising the display - when used with a GPS such as the QRP Labs QLG1 you can now include date, time, longitude, latitude, locator, altitude, with scrolling etc., as well as your own custom text. In effect this firmware release merges in a lot of the functions already available in the Clock kit. 
Support for 4-row displays with widths up to 40 characters (not supplied with the kit!)
Configurable correction threshold so that no frequency updates occur unless the reference frequency correction exceeds the threshold
As usual the .hex file for people wishing to update their own chips is available in the files area of the QRP Labs YahooGroups forum, or programmed chips are available here in the QRP Labs shop.
A few issues were soon detected with s1.02 that had escaped through the QRP Labs testing... so further minor updates were made, as follows:
s1.02: original new release as described above
s1.02a: A bug fix because the "-" in the IF offset setting wasn't retained after editing
s1.02b: A bug fix to the correction threshold, which only accepted 0's and 1's; also the date display #-tags didn't work
s1.02c: An improvement which removes audible "clicks" when the VFO frequency is changed 
6. Shipping delays
High order volumes in October, a shortage of ATmega328 chips, and the rapid succession of new firmware releases, all combined adversely with the usual logistical nightmares inherent in getting stuff from A to B and onwards to C around the world. The result was some orders delayed considerably beyond the normal 3 business days in which QRP Labs orders are normally dispatched. We apologize for the inconvenience and thank you for your patience. The last batch of chips has almost reached the QRP Labs shipment office which will enable the remaining pending orders to be shipped.
7. Balloon flights and ZL1RS ocean buoy news
There were two short balloon flights this month, lasting only a few hours. The first was Dave VE3KCL's S20 balloon which flew 781km in about 12 hours. S20 flew South into US but landed during the night for unknown reasons. Suddenly several days later, S20 transmitted a few WSPR bursts from the ground in subsquare EM97SI (Virginia, US) at an altitude of 980m. With the help of Google Earth, and some assumptions such as that S20 was flying in a Southerly direction - it is possible to conclude the probable final resting place of S20 is somewhere along this mountain ridge! To the best of our knowledge, nobody has been out there looking for it yet ;-)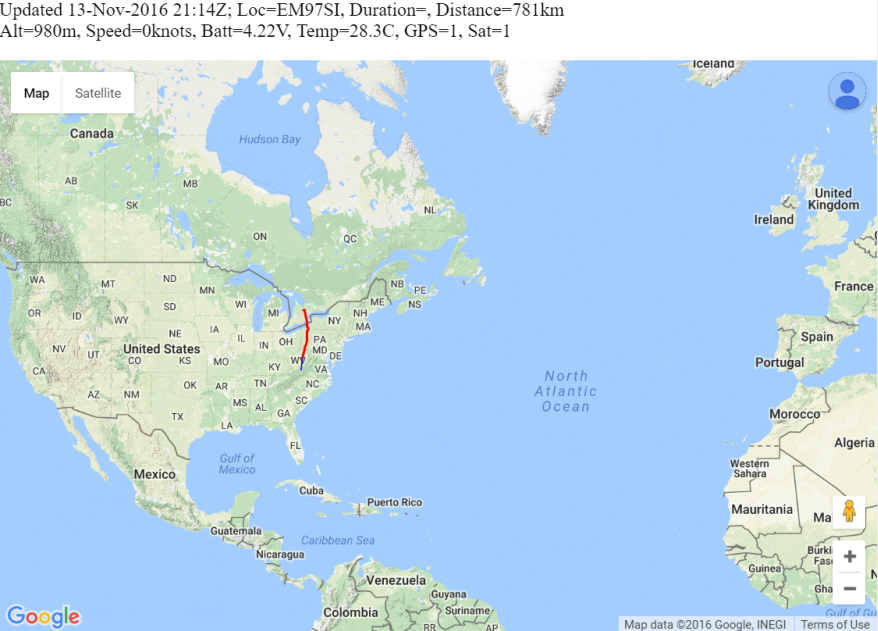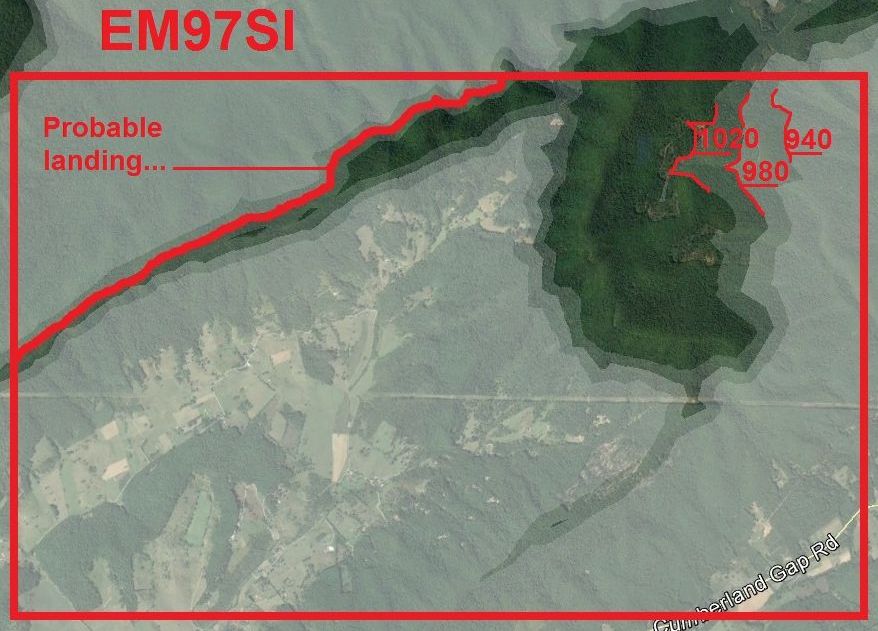 Later in November Daniel DL6OW launched his third flight STELLA3. The balloon ascended to over 9,000m but appears to have suffered a balloon burst and came down again, for a flight duration of only a few hours. Nevertheless it was the highest altitude reached of Daniel's flights to date and the first to have left Germany, crossing the boarder into Netherlands and most probably landing just across the Belgian border. In the STELLA3 team photo below, Daniel DL6OW is the one on the left.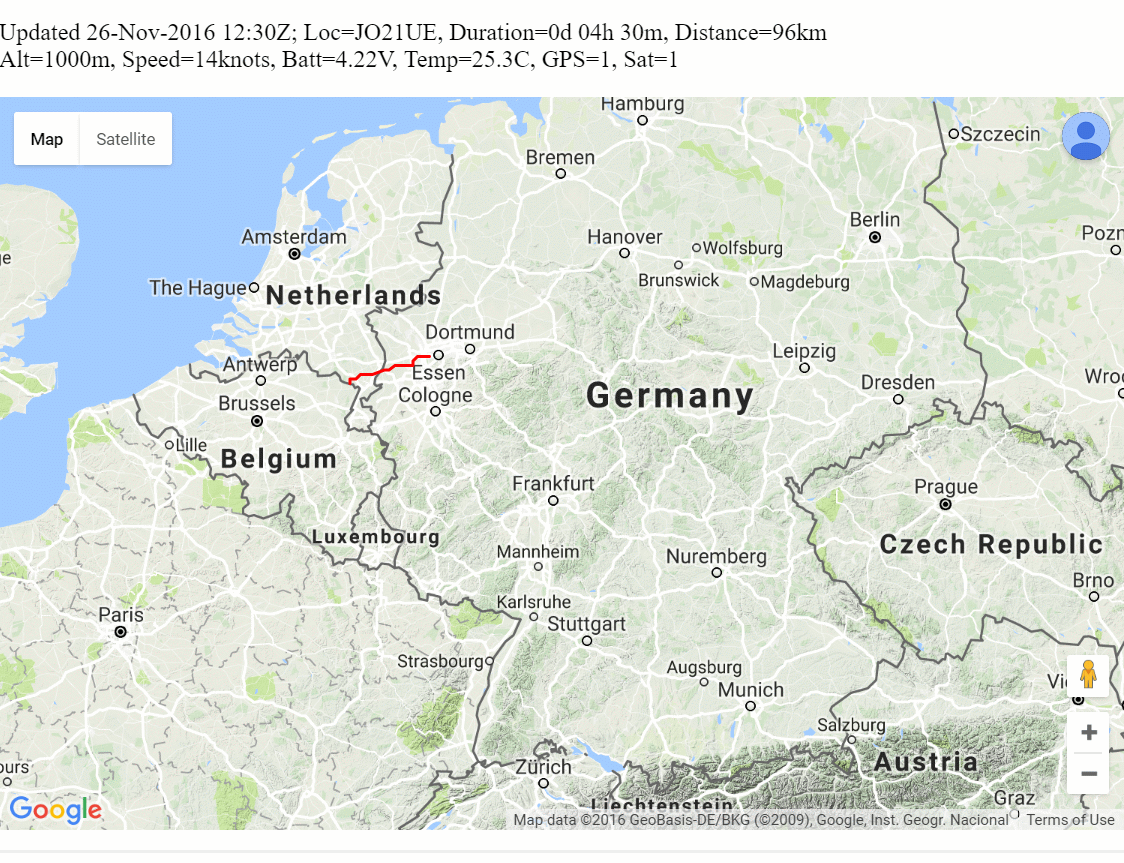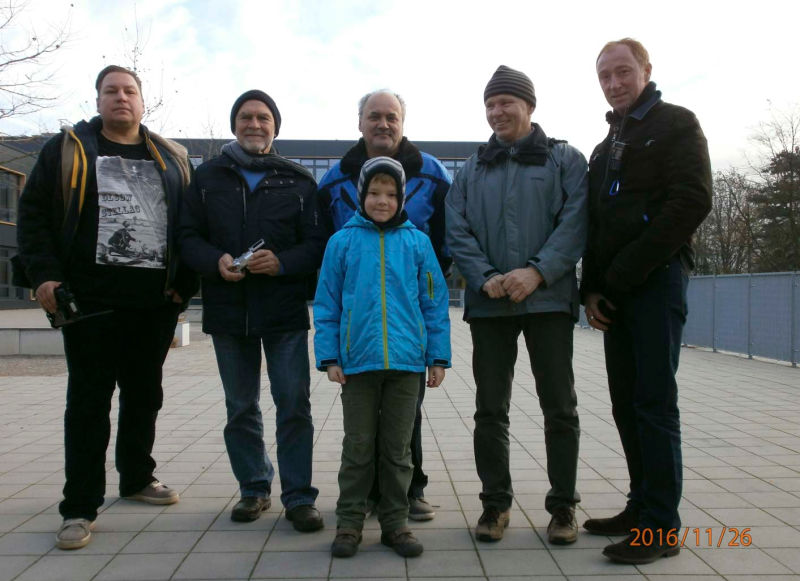 Finally, an update on the progress of Bob ZL1RS's amazing Ocean Floater project, see http://www.qsl.net/zl1rs/oceanfloater.html . Bob's Ocean Floater buoy uses an Ultimate3S kit as the transmitter. The buoy has been meandering about slowly, in the Pacific Ocean somewhat South-West of Fiji. The most remarkable aspect of this project is the endurance of the buoy which is a real tribute to Bob's construction skills! This month it passed 6 months at sea. At time of writing (06-Dec-2016) the Ocean Floater has been at sea for 202 days!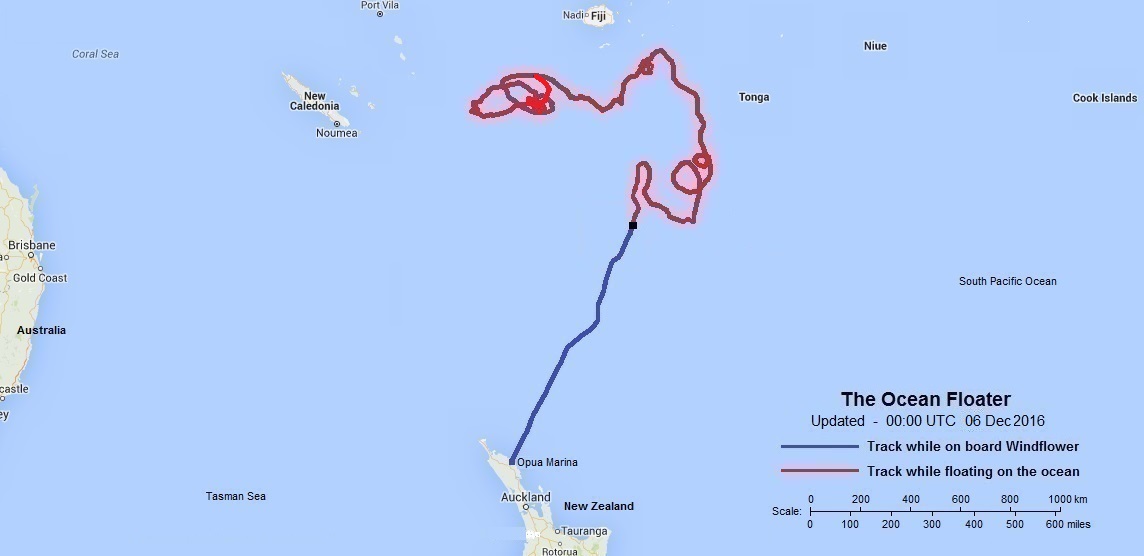 8. Seasons' greetings
Season's greetings (to those of you to whom such greetings apply) to all QRP Labbers and QRP Labs followers and any other interested parties! Thank you for your support during 2016 and we look forward to lots more exciting new projects in 2017!
9. Social media, Feedback, unsubscribing
Social media: QRP Labs has the following presence on social media. If you use these social media then please join or follow QRP Labs! Announcements such as new products, balloon launches, etc., will be made first in these media!
1) QRP Labs YahooGroups forum, https://groups.yahoo.com/neo/groups/QRPLabs/info for discussion and support on all QRP Labs products
2) QRP Labs Facebook page https://www.facebook.com/QRPlabs/ 
3) QRP Labs is @qrplabs on Twitter https://twitter.com/qrplabs 
Feedback: As always, please do write with any comments, ideas, criticism, feedback of any kind!
Unsubscribing: If you want to unsubscribe from this monthly newsletter, then either log in to your QRP Labs shop account and un-check your newsletter preference, OR, email and we'll take care of it. 
Vy 73 de QRP Labs