Live tracking
Day 2 update: 12-Mar-2016
Day 1 update: 11-Mar-2016, launch day
Design changes
Telemetry schedule
David VE3KCL's S-7 flight was launched at 11-Mar-2016 13:00Z. Like the former flights, this one also used a special U3 firmware version on an Arduino Nano board, with QRP Labs Si5351A Synthesiser. Two foil "party" balloons are used, filled with hydrogen. The design changes relative to the former S-4 flight are listed below.
Balloon S-7 landed in the Atlantic in very stormy weather!
Live tracking
The map below was updated automatically with the latest received position during the flight. During the balloon's night, there is insufficient power to run the transmitter, so no updates are received until the following morning.  
Day 2 update: 12-Mar-2016
Balloon S-7 headed North, still in the middle of the Atlantic.
The following stations reported the balloon on WSPRnet today: VE3ZLB K5XL K4RCG/4 KD6RF G8DYK EI8IQ TF3HZ VE1VDM/1 K4COD W4HBK N3EMA EA1FAQ W2CXM K3XR K9AN KK1D SM0EPX/RX2 G4NTN G8LCO G4ZFQ ON7KB HB9AMB PI4THT DK6UG LA8WRA VK6XT F59706 SA6BSS K1JT DL1EKC OE3BUB G4MSN GI7KMC PA3GNZ DL8FCL DL8MFH DM2PE G4HBA F1VMV VE3GTC ON7AN EA8BVP G4DJB DH5ABC G6ORN W3BH G1CPC OE6ASG VE3GF IU1DZZ DC7JZB G4USP G6RRL M0GBZ N2NOM NC4H GJ3YHU G4OGL EA8/LA3JJ K3SC W3CSW N2NXZ K3GEN AE2EA K3ZV.
Best DX today was 17.251km.
Day 1 update: 11-Mar-2016


Dave VE3KCL managed a successful launch of balloon S-7. Here are the launch photos:
At sunset the battery does not have enough capacity to continue powering the balloon and it shuts down until the morning. The graph (below left) shows altitude, groundspeed (knots), temperature and battery voltage. Click for larger images. The map (below right) shows the progress east from the launch site in Toronto. CLICK IMAGES for full size versions.
The following stations reported the balloon on WSPRnet today: SWLKCL W4DJW W3HH WA8KNE KD6RF KC4RSN WA4RG KV0S WB4HIR K4COD W4MO K4EH K9AN K5XL K5OK W2AXR AE2EA VE3GTC K4RCG/4 W2CXM K3XR K1OF WA3DSP N3EMA AB1PF KK1D W9MDO NC4H N2NOM W1FRA KN8DMK KB4NEW ON7KO SM0EPX/RX2 DK6UG F1VMV VK7DIK VK3WE ZS6KN/2 PI4THT M0PZC EA8BVP KB3VR EA8/LA3JJ KK4MBI K3ZV DF8OE WA9EIC VK6XT EA1YE VE3LJT DL1EKC W3GXT YV4GJN W0ANM K5DSQ KK4A.
Best DX was 19,276km. Not bad for a 20mW signal!
Design changes
There are quite a few changes in this flight, so it is quite a risky one! So many changes being tested means a high probability of something not working quite right.
1. Different module assembly, uses less foam
2. Atmega at 20mhz at 3.3v
3. 7 solar cell supply lipo charging voltage peak in the cold
4. solar cells with no blocking diode. ( wastes 25ma in the dark) but .3v higher
5. Higher internal pressure in the balloons 5gms of free lift will be 2.5gm/ balloon ..may float longer. should give a safety factor of 3.5 on internal pressure.
6. Pre stretching the balloon envelope.
Dave provides this breakdown of the weight of the various balloon payload components:
| | |
| --- | --- |
| Lower antenna | 1.18 gm |
| Upper antenna | 1.17 gm |
| U3 plus solar panel | 22.34 gm |
| Free lift | 5.00 gm |
| Joining tape balloon | 0.21 gm |
| Balloon string dyneema | 0.15 gm |
Telemetry schedule
The telemetry uses the same general system as the S-4 flight. See the S-4 page for more details of the telemetry protocol. The transmission schedule for the flight is based on a 12 minute transmission cycle, commencing on the hour and repeating every 12 minutes: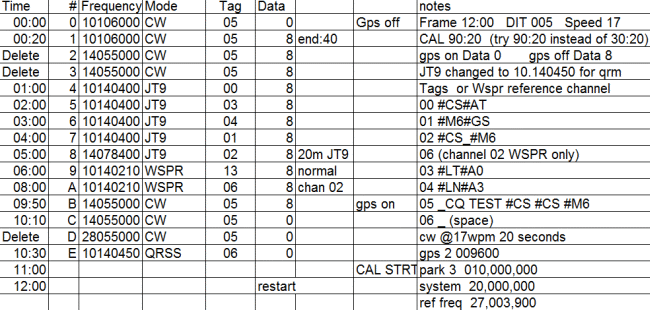 Special WSPR data telemetry encodes 5th and 6th Maidenhead locator, altitude, temperature, battery voltage, ground speed, GPS status and Satellite coverage.
Photos
These photos from Dave VE3KCL show the flight payload and solar cell array. Click for larger photos.