Final status
Live tracking
Day 18 report, 26-Apr-2016
Day 17 report, 25-Apr-2016
Day 16 report, 24-Apr-2016 (again)
Day 15 report, 24-Apr-2016
Older reports...
Photos of the launch, testing, and transmitter
Telemetry schedule
Like the former flights, this one also used a special U3 firmware version on an Arduino Nano board, with QRP Labs Si5351A Synthesiser. Anticipated launch is April 5 around 1200 UTC. The telemetry is the same as S8, using channel 4 sending WSPR, JT9 and CW. This time using 2 party balloons and a 23gm payload..(less weight than a house sparrow).
Final status
There was no day 19! The last update was on 27-Apr-2016 01:18UT. The balloon never woke up the following morning. We assume that some bad weather cell reaching to high altitude brought down the balloon during the night. Just a final day would have completed the circumnavigation... but anyway, it was a fantastic flight!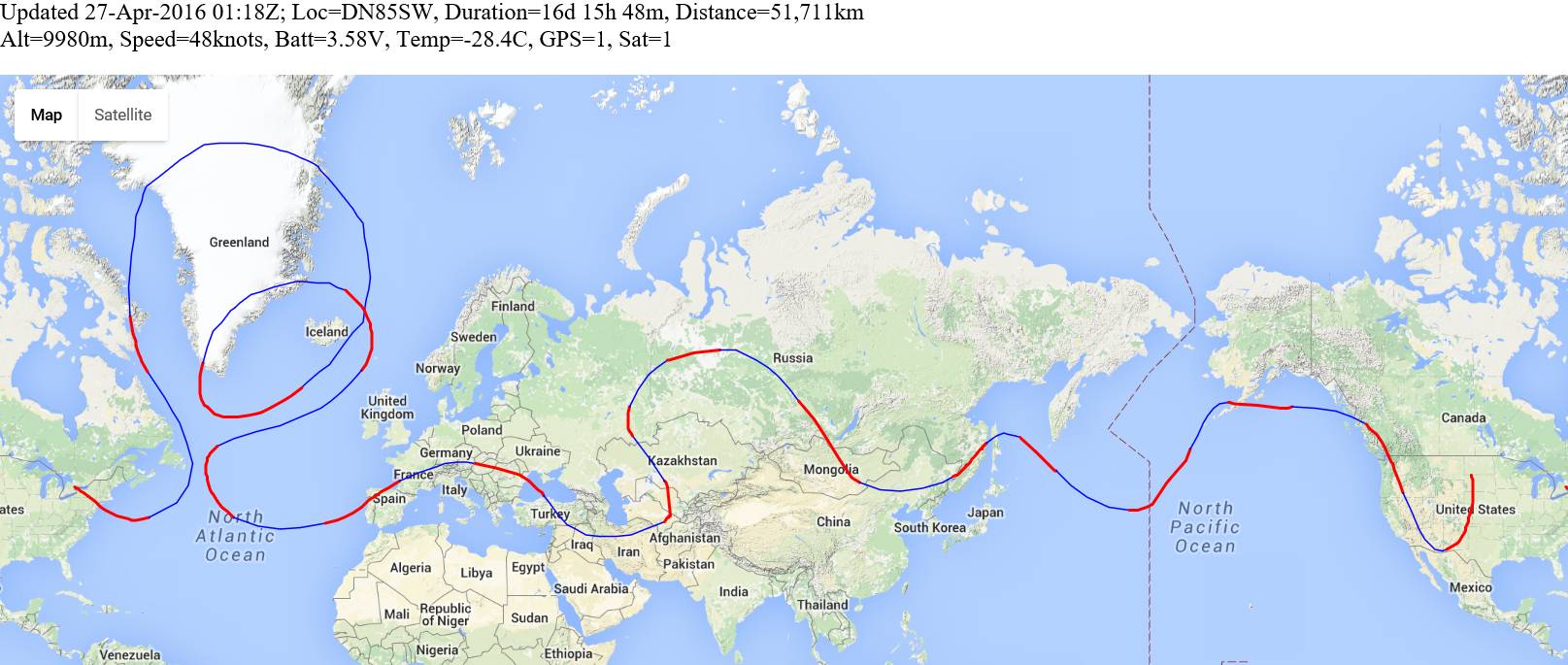 Live tracking
The map below will be updated automatically with the latest received position during the balloon's flight. The thin blue line is the estimated path overnight, based on NOAA projections (see images below) started at the time/location of the last position report. 
During the balloon's night time the battery is quickly depleted, so from just after sunset there are no more reports until daylight.
Day 18 report, 26-Apr-2016

S-9 traveled south across Nevada, Arizona, then turned back North crossing New Mexico, Colorado, Nebraska, and South Dakota. If the NOAA prediction is correct and nothing happens to S-9, it could pass close to the Toronto launch site tomorrow, completing the whole journey around the world!
The following stations reported S-9 on WSPRnet today: WB5B KB4RG ZL1RS VE7TIL KC5UNL W0AY N5CEY KD6RF AD7UI KD6QM K9AN K6ALF W6IEE K6WGX K4RJD KA9LHE K4COD W6JHP W3BH KC4RSN N3IZN K5XL KD6EKQ KR6ZY WB8ELK/01 N5EIL W4HOD WA9EIC N9JL VE6EGN KC5WX N6RY N2NXZ NO1D KA0UNB N8OOU WA8JXM KK6RKY W9HLY N4PT WA9ETW VA3ROM WD0AKX KC9NBV W4DJW KE3PL AB8NO AF1E W6YQ VE2MLS VE3GF VE6UX W9MDO W3BCW W2VID WA6OUR K3GEN VE2DPF KD9AFA
Day 17 report, 25-Apr-2016


S-9 headed South through Canada and into US, crossing Washington State and Oregon. The NOAA forecast projects a curved path through the US and back into Canada. We shall see. The weather forecast also shows bad weather ahead on the path, some of it stretching up to the 10,000m altitude of the flight. The Toronto start line is in sight, I hope the bad weather doesn't bring down S-9 before it can complete its round the world trip!
The following stations reported S-9 on WSPRnet today: ZL1RS W6IEE K6WGX WA6OUR KF7O W6YQ N4PT K7JGM W6JHP N0AN KC9NBV NO1D N3IZN N6RY K4COD KR6ZY W3IH WB5B VE3GF KD6EKQ N5CEY WB8ELK/01 W5GNB
Day 16 report, 24-Apr-2016 (again)

This report is dated 24th April again because S-9 crossed the international dateline yesterday. Readers are referred to "Around the world in 80 days" (Jules Verne) - a reminder of how one day comes twice, and you can travel for 15 days (in S-9's case) when only 14 days' worth of hours counted, actually pass. But no surprises at the end this time, we know all about it.
The S-9 balloon woke up early and transmitted all day without GPS or any other fault. It has crossed Alaska and is now headed East for Canada!
The following stations reported S-9 on WSPRnet today: ZL1RS JQ2WDO W6PNC KJ6WSM AC7IJ K9AN K7AYO N3IZN K7JGM W6IEE KR6ZY KC9NBV WA6OUR N9JL K4COD W5GNB
Day 15 report, 24-Apr-2016
S-9 headed East across the North Pacific Ocean. It is currently aiming for Alaska. There were no GPS problems today.
The following stations reported S-9 on WSPRnet today: JA5NVN ZL2ABN VK3FFB JQ2WDO N0AN W6JHB K7JGM K4COD ZL1RS W0AY N3IZN W6IEE
Day 14 report, 23-Apr-2016

S-9 started the day flying over the Sea of Okhotsk. First reports from the balloon came at 22-Apr-2016 23:18 UT. The first position report seemed accurate, but the GPS did not provide any further position reports for the next 7.5 hours until 23-Apr-2016 6:49 UT when the GPS appeared to come back to life and start receiving valid satelite fixes. But guess what? Then WSPRnet was down, so we had no automated reporting via WSPRnet. Luckily by then, Bob ZL1RS had propagation and was able to provide a good list of decodes on both WSPR and JT9. I have manually decoded these and added the points to the map and the graphs. Thanks Bob!
The following stations reported S-9 on WSPRnet today: JA5NVN JQ2WDO ZL1RS KL7L
Day 13 report, 22-Apr-2016



The following stations reported S-9 on WSPRnet today: JQ2WDO OZ5XN ZL1RS
Day 12 report, 21-Apr-2016


Russia, Mongolia
Day 11 report, 20-Apr-2016

A long journey East through Russia...
Day 10 report, 19-Apr-2016


Again no problems with the GPS today. Some people have suggested that it is not a coincidence that the GPS stopped receiving satellites over Syria and Iraq, which is a WAR zone... and that some kind of GPS jamming was operational in that area. It seems like a plausible theory.
S-9 continued Northwards and West slowing down over southern Russia all day. It has turned East and sped up a little, the NOAA prediction shows it travelling a lot more East in the next two days as well as North. Let's hope so!
The following stations reported S-9 on WSPRnet today: OH7AZL SM0EPX/RX2 ZL1RS2 OH3LMN G8DYK DK1BN 5P1B OZ7IT OH5KZ ZL2ABN OH8GKP OH5YR SA6BSS
Day 9 report, 18-Apr-2016



By some miracle everything was fine with the GPS today and S-9 transmitted everything as usual. However propagation from that location appears to have been unfavourable for most stations. Reports were only received near sunrise and sunset, and only from two stations Bob ZL1RS and SM0EPX for most of the day, with one report from OH7AZL at the end of the day. I know ZL1RS and SM0EPX both have very sensitive receiving stations.
S-9 traveled over Turkmenistan, Uzbekistan and Kazakhstan today.
Day 8 report, 17-Apr-2016




Today the GPS never functioned correctly at all. Signals were received from S-9. However the timing was off, meaning the GPS had never sent the accurate time and used the 1pps signal for frequency calibration. The JT9 and WSPR could be decoded on a PC by artificially setting the PC time to an incorrect value, with offset to match S-9. However the telemetry contains no position information, or altitude, speed etc.
We can only speculate on the position based on the NOAA forecast. To date these have been extremely accurate. Based on this the balloon must have crossed Turkey, Syria, Iraq, and be inside Iran. 
The following analysis is from Bob ZL1RS who copied the balloon transmission at its sunrise. Bob says: "Wake up time was shortly after 03 UTC. The sunrise terminator at the time was more or less over Israel, so that places S-9 well into the middle east (in line with my antenna heading). It is probably not far from the NOAA prediction. As soon as (if) the GPS kicks into life it will be immediately apparent from a big time change and frequency shift ... but I doubt I will still have propagation when that happens ... hopefully someone else does, but it is some way from Europe and getting further into day light that will suppress the propagation. The decoded to now are below."
0417 -22  2.2 1727 @ VE3KCL KN72BB

0418  -19   2.2   10.140216    2   VE3KCL        KN72     13  16388
0420  -21   2.2   10.140214    2   014NMY        JN18     33  18342

0424 -24  2.1 1727 @  556
0425 -23  2.2 1725 @  837

0429 -24  2.2 1716 @ VE3KCL KN72BB
0436 -24  2.2 1712 @  554
0437 -23  2.2 1714 @  840

0441 -23  2.2 1721 @ VE3KCL KN72BB

0442  -19   2.1   10.140209    2   VE3KCL        KN72     13  16388
0444  -19   2.2   10.140207    2   014NMY        KC23     40   8422
0446  -21   2.2   10.140192    2   014NMY        KF77     20  11371

0448 -23  2.2 1727 @  563
0449 -24  2.2 1728 @  827

0453 -25  2.1 1728 @ VE3KCL KN72BB

0454  -21   2.2   10.140217    2   VE3KCL        KN72     13  16388
0456  -20   2.2   10.140218    2   014NMY        LB94     33   6891
0458  -21   2.2   10.140194    2   014NMY        LB92      3   6772

0500 -24  2.2 1728 @  568
0501 -no decode-

Day 7 report, 16-Apr-2016








Today in the morning a single position report was received from the S-9 balloon, showing the position having just crossed the Austria/Hungary border into Hungary. Then for most of the morning, all the reports contained exactly the same position, and the GPS and Satelite status flags were both 0. The GPS was not providing position! At 10:26UT the GPS started providing position reports again.
S-9 crossed France, Switzerland, Germany and Austria overnight. We can interpolate the night-time position quite accurately from the NOAA prediction chart. During the day S-9 crossed Hungary, Romania, Moldova, Ukraine, back over Romania again, and then out across the Black Sea towards Turkey.
The following stations reported S-9 on WSPRnet today: ZL1RS G4USP SM0EPX/RX2 G8DYK OH7AZL LA3JJ M6RZA F6FUZ SA6BSS ON7KB OP4A G0LRD PI4THT PA1RAB ON7KO OH3LMN ON7AN G4WNC G4HBA R3LW M0GBZ DK8JP G0AZS LA6LU/RX2 LB0K G4DJB G4FKK DF2JP SV8RV DB1JJ DK6UG M0AFZ DK5HH OZ7IT SM/DC4LC DL8FCL G3JKF DL5HCK PA3GCH DF4UE DG4FBC PE1IWT SM0ULC HB9BRJ F5OIH DL2JA F6HTL DJ6OL PA3ABK/2 DJ0MDO PB0P DL5TX DG2HSI DJ7KA DK0SC DM2PE PA/SWL32 UNLIS F59706 OH5KZ DJ1BJB DC1OV OK4GP IW5CI OK5NW SV1DAR PA3BHT UB3DAB LA6LU/RX1 HB9AMB 4Z4TJ OH8GKP RU9WL SM67464
Day 6 report, 15-Apr-2016



S-9 Finally reached Europe! Proving once again that it's the journey that's what matters, not the destination - taking 5 days and traveling 22,000km to reach this point - which must be 3x more than strictly necessary! S-9 crossed Portugal, Spain and got into France before sunset.
The following stations reported S-9 on WSPRnet today: SM0EPX/RX2 EA8BVP ON7AN ZL1RS VK3WE G8DYK DK6UG DF8OE K4COD VK5MR ON7KB ON7KO VE1VDM/1 VK6XT G3JKF G8FDJ PA3ABK/2 G4TCU 2E0JSJ G4HBA G0LRD OP4A DK5HH PA1RAB DF2JP M0GBZ G4USP DK1MAX DC1NF 2E0MAY G7OKV DJ2FS DF4UE PI4THT G4DJB PE1ADY F6CNI PA2ZZ PA1SSB M1TCP SWLJO20 M0AFZ DK1BN PA/SWL32 PA3FYM2 ON5DC DK8JP G4FKK G4JVF DL5HCK SA6BSS DL2JA HB9AMB HB9DWR M6RZA G8BKE G4WNC DB1JJ G0AZS DL1KAI HB9FRM G1FJH PA5EM ON0VA DJ6OL DK4TJ G4PMB G8INV DG4AM G8KUW NL9222 G0MJI LA3JJ DL5TX DJ4DI F4HHS
Day 5 report, 14-Apr-2016
Back almost all the way west to Canada again! But S-9 has finally turned back East and the NOAA prediction shows it reaching Spain tomorrow! The weather forecast shows some bad weather off the coast of Spain - but who knows, it may move out of the way before S-9 gets there, or S-9 may be high enough to fly over the cloud tops.
The following stations reported S-9 on WSPRnet today: VE1VDM/1 W3HH SM0EPX/RX2 TF3HZ W4MO G8DYK K1JT ON7AN W1GJM K1OF W3CSW N2NXZ VE3GTC W2CXM VE3GF KK1D W3BH N2KMF K9AN WB8ELK/01 K4COD AE2EA KD6RF VA3KV G3XKR 5P1B WB2YDS DK5HH ON7KO DK6UG PI4THT VK6XT IU1DZZ KE3VJ EA8BVP DJ6OL DF4UE ON7KB G4HBA DF2JP M0GBZ PA1RAB OZ7IT PA3ABK/2 DC1OV DF5FH N1NCO W7QO/01 VK5MR SA6BSS G0LRD WB4HIR VK3WE K2TL WB1FIG
Day 4 report, 13-Apr-2016
S-9 is still flying well, at about 10,000m altitude. The winds are not favourable for getting anywhere, except looping around in the Atlantic! The NOAA prediction from the last report (see below right) says S-9 will travel back towards Newfoundland but we might eventually then make some progress towards Europe!
The following stations reported S-9 on WSPRnet today: SM0EPX/RX2 M0SIY G3XKR DK6UG ON7AN M0GBZ G0LRD PI4THT LA3JJ ON7KB DK5HH DK8JP G8DYK OZ7IT ON7KO F5OIH DF2JP DD2EE DK1IZ DM2PE DC1OV PA1RAB SA6BSS G3JKF DF4UE DJ6OL G8KUW G4DJB PA0PZ G4WNC DL1KAI DL4MFC DK8FT G7OKV G0AZS OH3LMN PA1SSB DM3FML
Day 3 report, 12-Apr-2016

Overnight S-9 traveled in a big loop over Greenland. Stretching of the S-9 balloon envelope means that S-9 has climbed to over 10,000m. Great! Hopefully avoid a bit more bad weather, due to the extra height. It was a good day's flying, if you like flying in big circles... we end up further from Europe than when we started! Communications today were excellent, most 12 minute WSPR reports were received and logged. 
The blue lines on the map have been added manually, they are an estimate of the balloon's path overnight when the depleted battery does not allow transmissions. The estimate is made using the NOAA prediction map, which appears very accurate. The NOAA prediction was started at the last known position and time and the balloon woke up close to where NOAA said it should be in the morning - so we can be reasonably confident the path overnight followed NOAA quite closely too.
The following stations reported S-9 on WSPRnet today: F5OIH SM0EPX/RX2 PI4THT G3XKR PA1RAB DF8OE DK6UG SA6BSS SWLJO20 F4MZI ON7KB LA3JJ G4HBA DK5HH ON7AN KD6RF KC4RSN ON7KO G0LRD W3CSW W1GJM W2CXM W3BH VE1VDM KK1D N2NXZ VE3GF K9AN TF3HZ VE1VDM/1 VA3KV G8DYK K1JT AE2EA
Day 2 report, 11-Apr-2016

Happily, S-9 managed to turn North before hitting the bad weather just ahead at 10th April's sunset at 55-degrees West. It appears to have followed the NOAA prediction very closely! The straight line on the map is because the battery power quickly runs out after sunset and there are no more position reports until the sun comes up and charges the batteries in the morning. S-9 woke up and reported home at 11:02 UT, a little south of Baffin Island! Propagation from so far North appeared not very favourable, and not many receiving stations are in the vicinity, presumably. Some hours passed with no reports from the balloon (always a bit worrying).
Three reports came in at what must have been the balloon's sunset. Unfortunately they are all the 2nd WSPR report, the one containing only the telemetry (5th/6th Maidenhead locator, Altitude, Speed, Temperature, Battery voltage, GPS/Satellite status). Since we didn't get the 1st WSPR transmission, we don't know the Maidenhead Locator's first 4 characters. However the rest of the balloon status looks healthy, a good altitude 9,520m, great speed of 136 knots, etc.
The final three reports of the day, each was from only one station, in Europe:
| | | | | | | | | |
| --- | --- | --- | --- | --- | --- | --- | --- | --- |
| Time | Raw data | Reporter | Altitude | Speed | Temp | Batt | GPS | Sats |
| 11-Apr-2016  21:18 | 0G4EZB FG61 0 | SM0EPX/RX2 | 9,660m | 134knots | -23.5C | 3.58V | 1 | 1 |
| 11-Apr-2016  21:40 | 024KIN EO44 10 | F5OIH | 9,620m | 134knots | -26.4C | 3.83V | 1 | 1 |
| 11-Apr-2016  21:52 | 0Q4TWE DR76 37 | DK8FT | 9,520m | 136knots | -30.3C | 3.54V | 1 | 1 |
Based on the last known position and the NOAA prediction, the sunset position of the S-9 balloon was probably somewhere in the green circle I have added to the NOAA prediction (see below). Let's see what happens, at sunrise - fingers crossed!
The following stations reported S-9 on WSPRnet today: W1GJM K9AN SM0EPX/RX2 K4COD VA3KV VE3GF W3CSW KK1D K0VM ZL1RS DK8FT F5OIH
Day 1 report, 10-Apr-2016


Dave VE3KCL had a great launch (see photos below). The S-9 balloon ascended steadily to over 9,000m and headed South-East rapidly. Groundspeed was 84-102 knots (156-189 kph, 96-117 mph) for most of the day, and the balloon covered 1,747 km by sunset (1,086 miles). S-9 flew right over New York Midtown (see zoomed map below), saying Hello to Times Square and the Empire State Building on the way past, no doubt!
There is bad weather at 55-degrees West, right in front of S-9. But on the other hand there is a strong North jet too - and the NOAA 48-hour prediction shows it travelling far North and not making any headway in the direction of Europe any time soon. So, S-9 might be drowned by the bad weather, overnight. Or, if it survives through the night, then it could wake up somewhere near Baffin Island. All that can change of course, weather being weather. Let's see.
The following stations reported S-9 on WSPRnet today: W4MO VE3KCL WB2TQE WA8KNE N2NXZ N6RY K4COD K5XL KC5UNL W3HH K4EH KL7L KU4QT W4DJW W4ENN WB0KSL KE0EFX WB4HIR KE3PL KC4RSN N0AN KA7SWP K9AN NF4E K7GXB AL7BX N3EML VE3GTC AE5BW KK4YDI KD6RF N3HZZ VA3ROM WA9EIC N3ZM W9MDO KZ3X W1GJM K4JCW W4HOD N1NCO KK1D WB3ANQ W2CXM W7QO/01 N5EIL WB8JAY W8PPB W3BH VE1VDM K8GUN VE1VDM/1 VA3KV W4HFZ W3BCW VE3GF W1FRA KB3VR G8DYK KO3F SM0EPX/RX2 K0VM KE3VJ K3GEN ON7KB DK8FT PA3ABK/2 DK6UG F5OIH KK4MBI W8OTR G3JKF OZ1PMX EI2KK SA6BSS W4JON N4HER PI4THT LA3JJ
Photographs
Dave had an earlier failed attempt at launching S-9 on 5th April, in which there was some damage to the solar cells. One of the photos below shows this. The payload design is smaller and lighter than the early S- series launches, which results in the lower weight and higher altitude of S-9 compared to those flights.
Telemetry schedule
The telemetry is the same as the S-8 flight. For a complete description: see the S-4 page for more details of the telemetry protocol. The transmission schedule for the flight is based on a 12 minute transmission cycle, commencing on the hour and repeating every 12 minutes: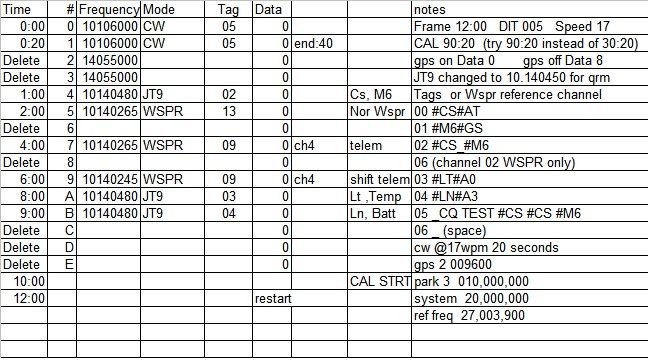 Special WSPR data telemetry encodes 5th and 6th Maidenhead locator, altitude, temperature, battery voltage, ground speed, GPS status and Satellite coverage.