Live tracking
NOAA path prediction and latest spreadsheet
Daily updates
Photos of the payload during construction and testing
Telemetry schedule
Like the former flights, this one also used a special U3S firmware version on an Arduino Nano board, with QRP Labs Si5351A Synthesiser. S-10 was launched on 09-May-2016. 
Live tracking
The map below is updated automatically with the latest received position during the balloon's flight.
During the balloon's night time the battery is quickly depleted, so from just after sunset there are no more reports until daylight.
NOAA path prediction and latest spreadsheet
Click thumbnail below left, for latest NOAA path prediction. Click thumbnail below right to download yesterday's spreadsheet containing the telelmetry data and flight log.
Daily updates
Day
Date
Distance
Reporting
WSPR stations
Comments, photos etc
Day 10
18-May-2016
 DB1JJ AH6GT
There were two WSPR telemetry reports today:

12:08 "0B4PSV GO35 37" by DB1JJ
decodes to altitude 20900, Temp=-17, Batt=4.1, GPS=0, Sats=0

17:20 "054HFM NO13 23" by AH6GT
decodes to altitude 18120, Speed=22, Temp=18.5, Batt=3.3, GPS=1, Sats=1

The GPS has no fix in the first report, but does have in the second. Neither of the altitudes make any sense! It cannot be that high up, it is physically impossible.

These could be random false WSPR decodes of the noise, which does happen sometimes. But on the other hand, they are both at the correct minutes past the hour (:08, :20) for 30m WSPR telemetry reports... so who knows!
Day 9
17-May-2016
 
No reports
Day 8
16-May-2016
 
No reports
Day 7
15-May-2016
 
No reports
Day 6
14-May-2016
K4COD
A single lone WSPR report (telemetry message) by K4COD at 01:06 UT on 30m indicating the balloon is still alive. The telemetry message decided 5th and 6th Maidenhead locator characters have changed so the GPS must have got a position fix, temporarily. But without the conventional WSPR message providing the first 4 character of the locator, it says nothing about the current position. Mikael SA6BSS provided the following map, S-10 will have been somewhere on that red line assuming the K4COD report was at sunrise (compatible with greyline propagation expectations).
Day 5
13-May-2016
SA6BSS
Only a couple of reports today in the morning, from SA6BSS. Again the GPS status bit is 0 (indicating no lock) and the position is the same as yesterday. The only thing we know, is that the balloon is still flying...
Day 4
12-May-2016
5421km (2 days)
ZL1RS PI4THT IK1HGI/1 OE2XRM SA6BSS

The GPS again did not show any position reports with satellite lock status of 1. However, it did achieve several position fixes at some point, and the time sync was correct, even though the transmit frequency was not. The transmit frequency was too high but was decoded by some stations by manually shifting their receive frequency. So some position points could be plotted on the map!
Day 3
11-May-2016
ZL1RS (JT9 only)
Apparently the GPS has not started working today. Bob ZL1RS wrote: "S10 is awake but the timing is off by 1 minute and calibration does not appear to be working. At least the frquency stability is good and the JT9 is decoding ...
0725 -15 -1.9 1821 @ VE3KCL HN27FE
0737 -14 -1.9 1843 @ VE3KCL HN27FE"
Day 2
10-May-2016
1,792km
G8DYK AB4QS W1VR/4 K4COD ON7KO F5OIH KK1D KD6RF N2NXZ ZL1RS VE1VDM W3BH ZL2ABN DK6UG W3CSW KZ3X K9AN VE3GF W1GJM M0MCX EA1FAQ PA1SSB EA8BVP DF4UE PA4MSA ON7AN DK8FT 5P1B M0GBZ ON7KB F59706 G6ORN KA9LHE F1VMV SM0EPX/RX2 G0FCH DJ6OL G4USP WB4KLJ SA6BSS G4HBA DK5HH IZ1SBX OZ7IT G6SSN PI4THT DL1KAI OE3BUB SA0BDK OH8GKP
The GPS stopped working in the morning, and stayed off all day - it reported one position later in the day though, putting the balloon in locator HN27FE
Day 1
09-May-2016
2,149km
VE3KCL AB4QS KD6RF W4HOD W4JOV W4ENN N2NOM KC4RSN K5XL AE2EA K9AN N2NXZ WB4HIR W3BH N9JL KB9AMG N9UYC K3XR VE2DPF WB3ANQ N3EMA W6YQ KK1D W1GJM KK4MBI W3CSW W1FRA W4DJW W4MO KB3VR W9HLY K4KFF N0AN VE3GF VE3GTC WB4KLJ F59706 G8DYK ON7KO W4JON DK6UG N4HER F5OIH WD4AHB EA1FAQ EA8BVP DK5HH KN8DMK F1VMV DK8FT G3JKF PI4THT DF4UE K4IZN ON7KB VE3GEN OE2XRM VE1VDM IZ1SBX DG8RW SM0EPX/RX2 WB1FIG KE3VJ SA0BDK K4COD W9MDO LZ1UBO SA6BSS W3GXT

A successful launch! Here is Dave's launch photo!
Photographs
Note in particular the efforts Dave VE3KCL has made to save weight. The flight package is more compact and has been arranged with the battery as a heat sink to provide more thermal stability. The solar cells comparison to the earlier S-6 flight is interesting. And look at the Si5351A Synth board, with surface mount components to save weight!
Telemetry schedule
This is the telemetry schedule provided by Dave VE3KCL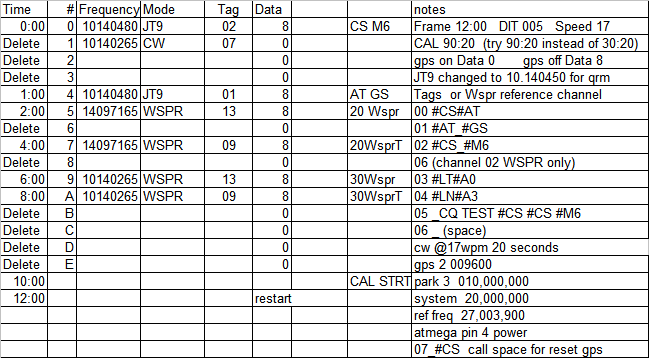 See the S-4 page for more details of the telemetry protocol. The transmission schedule for the flight is based on a 12 minute transmission cycle, commencing on the hour and repeating every 12 minutes, i.e. at 00, 12, 24, 36 and 48 minutes past each hour. A distilled version of the schedule is:
| | | | | |
| --- | --- | --- | --- | --- |
| Minute | Band | Frequency | Mode | Message |
| 00 | 30m | 10,140,480 | JT9 | Callsign VE3KCL + 6-character Maidenhead locator |
| 01 | 30m | 10,140,480 | JT9 | Altitude + groundspeed |
| 02 | 20m | 14,097,165 | WSPR | Standard WSPR message with callsign VE3KCL |
| 04 | 20m | 14,097,165 | WSPR | WSPR telemetry message on channel 4 |
| 06 | 30m | 10,140,265 | WSPR | Standard WSPR message with callsign VE3KCL |
| 08 | 30m | 10,140,265 | WSPR | WSPR telemetry message on channel 4 |
| 10 |   |   |   | 90 seconds of GPS calibration |
Note that the "WSPR telemetry message on channel 4" shows in WSPRnet with a callsign that has first character "0" (zero) and 3rd character "4". The remaining characters of the callsign, and the 4-character Maidenhead locator, and dBm power field, are all re-purposed for the telemetry. The WSPR decode (callsign/locator/power) will therefore be "0x4xxx xxxx xx" where the "x" is any permitted WSPR protocol character and conveys the telemetry according to the protocol discussed on the S-4 page. This special WSPR data telemetry encodes 5th and 6th Maidenhead locator, altitude, temperature, battery voltage, ground speed, GPS status and Satellite coverage.